The Nauvoo Planning & Zoning Committee held a special meeting to review the site plans for the proposed Dollar General store to be built in Nauvoo on March 28th. The store is to be located at 1645 Mulholland on the lot currently owned by the State Bank of Nauvoo. The representative from Dollar General answered questions by both the committee and citizens who attended the meeting. This meeting was streamed live on the openNauvoo facebook page.
Of particular interest were sign location and size. The proposed plan included a sign that was too large to comply with City Ordinance. A 5 foot by 10 foot sign was proposed, it will be reduced to 4 foot by 8 foot.  Height was also a concern, with the committee proposing a ground level sign, rather than the 15 foot height allowed by ordinance. The Illinois Department of Transportation (IDOT) will still weigh in on this decision. There was also a request to increase the number of handicapped parking spaces, to support Nauvoo's aging community (the Committee's words, not ours).
We were pleased to hear that the proposed building will feature a brick facade on the front to help fit in with the historic nature of Nauvoo. This was in contrast to reports we had heard. The citizens in attendance were supportive of this design, and glad to hear it would try to fit in.
A theme from the Dollar General representative was being a "good neighbor." The proposed plans seemed to take may items into consideration that could affect the neighborhood. Even though it will be located on Mulholland, alongside homes (also zoned commercial, and used for commercial purposes), the choices in lighting, setbacks from property lines, and access seemed to have made every concession possible while still using the property as the zoning laws allow.
The Dollar General representative indicated construction would typically take 90 days, and would likely be open after the tourist season, in late August.
We encourage Nauvoo citizens to review the meeting, available online.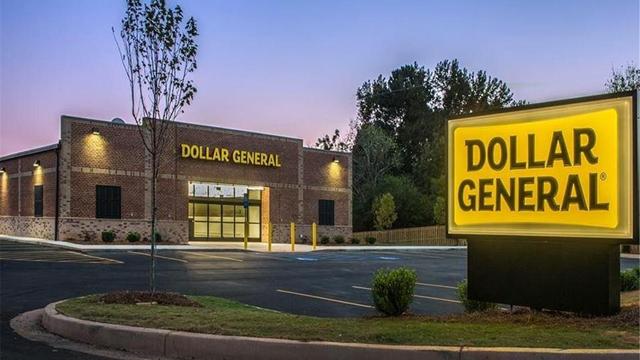 Another Dollar General location, with a brick facade and ground level sign.